08.03.2017
Shingal, where are you?
---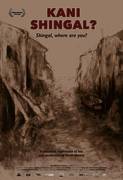 We are very happy to announce that Shingal, where are you? has its Greek Premiere at Thessaloniki Documentary Festival next week. The film is selected for the International Competition!

Screening Schedule
OLYMPION: Wednesday, March 08, 2017 - 18:00
CHRISTOS TSAKIRIS: Thursday, March 09, 2017 - 20:30
JOHN CASSAVETES: Friday, March 10, 2017 - 22:30
In 2014, the Yezidi city of Shingal in northern Iraq was conquered and destroyed by IS. The terror group murdered thousands of men and kidnapped 3,000 women and girls, who are still being kept as slaves. In a deserted coal mine on the Turkish border, thousands of Yezidi refugees wait for a safe return. Through the eyes of an older man, a teenage boy and a family, Shingal Where Are You? illustrates the burdens and dilemmas of this persecuted religious minority. Hanging around ruins and fishing pools, children discuss shockingly adult topics, such as the chances of another genocide taking place, and how much better life would be in Europe. In the meantime, the Havind family tries desperately to understand what has happened to them. Inconsolable, they talk on the phone with their daughter who reports from the slave camp. They try to buy her freedom through a chain of intermediaries and get close to the IS lines. The suffering is made all the more palpable when the family visits their city of Shingal, which has been reduced to rubble.
---